Ayni Healing Oasis, LLC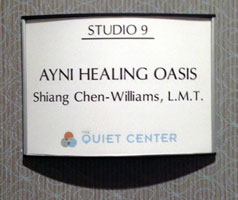 How to Find Us
Shiang Chen-Williams
The Quiet Center
3301 N. Miller Road, Studio 9,
Scottsdale, AZ 85251
Tuesday through Sunday (by appointment)
for appointments call:
(602) 463-1079
(which includes text messaging capability)
or
e-mail at blueelement@aol.com.

The Quiet Center is on the southeast side of Miller and Osborn - the 2nd building south of Osborn on the east side of the street. It is a rear parking facility. When you are on the premises, you need to look for a glass door with the sign saying "the Quiet Center." Please open the door, passing a small hallway, and then you will see "the Quiet Center" is on your left hand side. Please go into the waiting area and sit comfortably. I will come out to greet with you at your appointment time.
---
Techniques Shiang uses during her massage sessions
• HOME • Testimonials • About Shiang • Munay-Ki • Modalities • Shiang's BLOG
• Pricing • Contact • Links • Directions (Map) • Newsletter • Workshops
• Disclaimer and Privacy Statement •
©Copyright Shiang Chen-Williams
See who designed this site